If you have ever used a Mac, then the probability of your encounter with Alfred is very high because it is one of the most popular Mac apps. Alfred is basically an app launcher, file finder, task doer and much more.
Alfred does look like a simple tool but as you spend time on it, you would realize that its a powerful app which lets you do so many things. I have shared some cool stuff on Alfred in the past, you can have a look at it.
By the way, we would be talking about top free Alfred alternatives for Windows. Or say, we would be sharing few file / app launchers for Windows (file finders, app finders) which would definitely make your life easier on your computer.
Top Alfred Alternatives For Windows – File / App Launcher Windows
This is a multi purpose launcher which would let you forget things like quick launch bar and start up menu because everything would be few key strokes away. Whether it would launching a web address (URL), launch app, open file, use keywords like find, google, wiki, Gmail, Twitter and many more.
With time, you would definitely find this app as a virtual assistant which works on your commands. Its a pretty advanced application launcher for Windows. You should give it a try.

I think this is one of closest alternative to Alfred for Windows. Whether it would be its looks or its behavior, documents, files, folders, bookmarks, you can open them just by few key strokes. It has been labelled as best app launcher for Windows by number of charts. And it lives up to its promise that you will forget to use icons, shortcuts and even your file manager.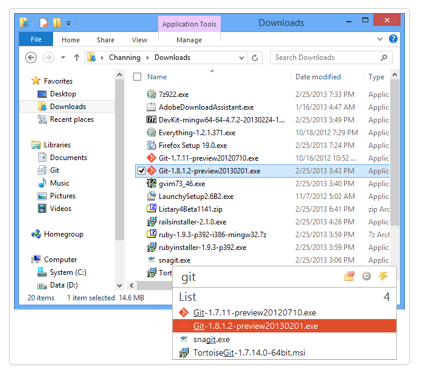 Its a pretty interesting search utility for Windows. Just like Alfred, Listary is capable of doing so many things. And the fact that it brings almost each and every possible thing on your computer to you key strokes makes it a pretty solid app. Whether it would be file navigation, disk search, hitting run commands, mouse, and much more, this nifty app is capable of offering all the help required.