Tiny Spell is a free spell checker application which lets you check and correct spellings of any word in any windows application quickly and easily. This small tool resides in your tray and will check each and every spelling you type. This eliminates the need for opening word processor for spell checks.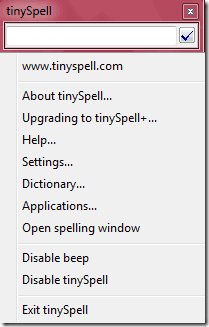 It will watch what you type and will alert you when the spelling is wrong. It can also check the spelling of text that you copy to the clipboard. If there is a misspelled word, you will get a list of suggestions from which you can select the word you want to insert in your document or for the clipboard.
Tiny Spell is also available as a portable version available which doesn't need any installation. It has a lot more customization features. With Tiny Spell installed, You will not make any spelling mistakes.