These days, files come from every direction like digital cameras, e-mail, cell phones, portable media players, camcorders, and PDAs. Increasingly, computer users are using different folders, drives, and even
different computers (such as a laptop and a desktop) to store and retrieve files. Managing hundreds or thousands of files is still largely a manual operation. In some cases it is necessary to get copies of files from one place; in other cases there is a need to keep two storage locations exactly in sync.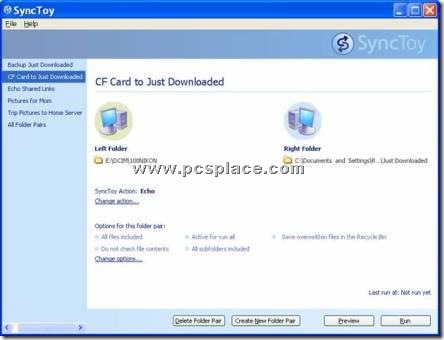 SyncToy is a free Power Toy that provides an easy-to-use, highly customizable program that helps users to do the heavy lifting involved with the copying, moving, and synchronization of different folders and computers easily. The features of Sync Toy include..
Dynamic Drive Letter Assignment
True Folder Sync
Exclusion Filtering Based on Name
Filtering Based on File Attributes
Unattended Folder Pair Execution
Command line enhancements
Sync Encrypted Files.
Folder pair rename
Most common operations can be performed with just a few clicks of the mouse, and additional customization is available without added complexity. SyncToy can manage multiple sets of folders at the same time; it can combine files from two folders in one case, and mimic renames and deletes in another.