Subtitle Search is a free program that allows you to search, find and download subtitles of many languages for movies that are available on Internet sites popular film subtitles, as the Open and Subtitle Subtitles Resource.
Using this program is very simple, just enter the name of the movie, TV series, etc. in the search form and click "Search"button.
If you want you can also set the subtitle language (type: Portuguese) and team distribution legend to narrow your search. On clicking the "Search" button, the program starts searching across multiple sites to find subtitles for the subtitles match the movie search.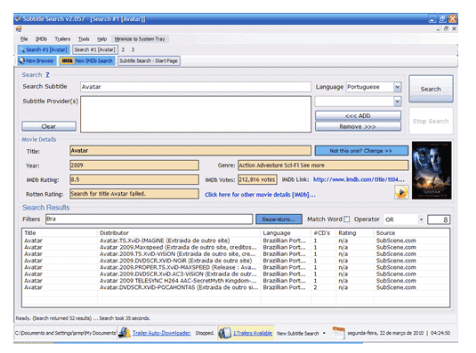 Each result is displayed with title, label, language, number of CDs, classification and source. To download a caption, double-click on the search result you wish to download.
You are also displayed with the information about the film taken from the IMDB, including cover, ratings, and rating link. You can also search for information about movies on IMDB direct the program.
Another useful feature is the "Quick Subtitle Finder". In this option you specify the video file on your computer and the program seeks to legend based on this information.
Subtitle Search is also able to download movie trailers automatically, if they are available on the sites by the program.