You can manage your Apple iPod without using iTunes. SharePod is a cool software which lets you organize, backup and share music from the iPod. This iTunes Alternative has more features which lets you perform tasks which you can't do with iTunes. This 1.8 MB software will be useful to use and organize your Apple iPod easily.
You can run it directly and no installations are required. It recognizes your iPod instantly and you can see options like Copy to PC, Copy to iPod, Backup, Search, etc which lets you transfer and share files on your Apple iPod. You can copy this EXE file into the iPod to use it anywhere you like.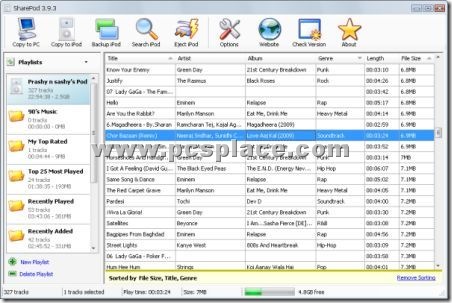 Here is a list of features of SharePod..
Add & remove music, videos, Playlists and Album Artwork from your iPod

View and backup photos

Copy music, videos and playlists from your iPod to PC

Import music/videos into your iTunes library, including playlists and ratings

Tag editing

Drag and drop to and from Explorer

Simple, clean interface

Quick to load and use with no unnecessary complicated features

Support for iPhone and iTouch
If you have an Apple iPod, SharePod is one software you must have software for all its features which helps to maintain your iPod easily.
Here is an article about How to copy songs from Apple iPod to your PC.