Online radio is one of the best ways to listen to new music. Here is one such software which lets you listen and record songs from Internet Radio for free. Screamer radio is a freeware which streams music online which means you can listen to various radio stations online for free and it has got a feature to record the songs you are listening, so that you can save and add the streaming songs to your music collection.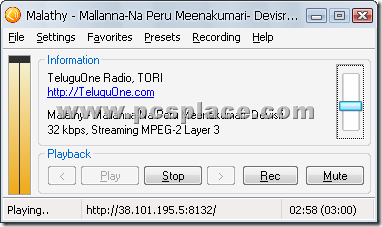 Screamer radio is very easy to use. It is a small program with no spyware or ads. It has got a huge data base of radio stations which you can select through presets based on different things like Genre ( Rock, Pop, Hip-Hop, Jazz, Dance, RnB, Reggae, Classical, Country etc ), Network ( BBC, Virgin, Sky FM, 1 FM etc ), Region ( Asia, Australia, America, Europe, India etc ) and Language ( English, Russian, Polish, Sweden, Bangla, Hindi etc ). Its interface looks cool with a peak meter and volume control.
You can record streaming songs directly from the software and can save them too. The recording specifications are as follows..
Recording buffer: start recording in the middle and still save the entire song!

Direct MP3 Audio stream saving, no loss of quality!

Direct OGG Vorbis stream saving, no loss of quality!

Or encode OGG Vorbis as MP3 using Lame

Encode WMA or AAC to MP3 using Lame
The radio can be minimized into tray and it can play back on multiple soundcards. There are many other options like adding stations to favorite, language selection, stereo effects etc. Screamer Radio is one best freeware to listen to many types radio stations and discover new music for free.