If you don't want others to use your computer, copy data and modify your files and folders, Try Prevent. It is a freeware app which prevents others from copying anything from your computer along with blocking access to cut, copy, paste, rename or delete files and folders.
You can download and install Prevent. You can use your own keyboard shortcuts to stop the application. If you want to activate Prevent, Just start the application and it prevents any unauthorized modifications. You can stop this application to get all the functions to work normally.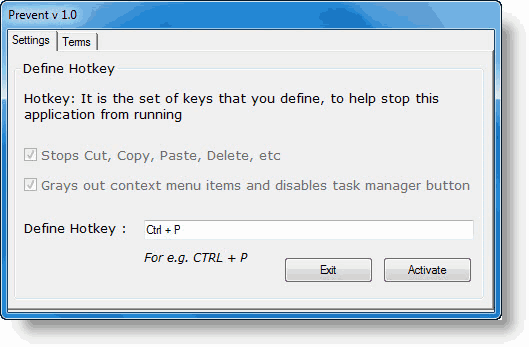 Here is the list of functions Prevent can be used for,
Stops Cut

Stops Paste

Stops Copy

Stops Delete

Stops Copy To

Stops Move to

Stops Send To

Prevents renaming

Disables Task Manager's End Process button.

It even prevents you to right click on process name and click on end process. It also grays out the context menu items, disable Ctrl+C, Ctrl+X and Ctrl+V and/or stops the process.
Get this handy application from this link.