Photo Magician is a small free program that offers a quick and easy to convert and resize a batch of images / photos / pictures automatically.
The program offers two modes of conversion (Full and Quick). In full mode you can set various settings, how to unify the format of the images, replace the original images, etc..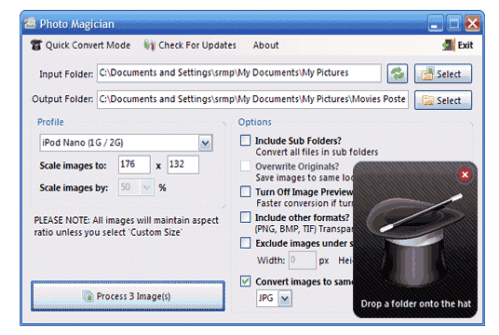 The rapid conversion mode (Quick Convert Mode) offers convenience in the conversion. Drag the image to the "magic hat" and it will be converted automatically to the size you select.
Photo Magician also offers profiles of the main images to portable devices such as iPhone, iPod, Nintendo DS, PSP and Zune as well as standard resolutions such as 1280 × 960, 1024 × 768, etc..
For example, if you want to resize photos to upload to your iPhone, you just select the profile of the iPhone and your images will be resized to the resolution used by the iPhone.
You can resize images based on the percentage of the original image size, choose a profile picture pre-defined or manually set the size of the images. Photo Magician is compatible with Windows XP, 2003/2008, Vista and Windows 7 (32 and 64 bit).