PDFCreator is free PDF creating utility which adds itself as a printer and can also be installed as an add-on for the internet browser. It is a very impressive software for those looking for a speedy and inexpensive PDF convertor. The program has a plain interface with simple and straight-forward menus. When a print command is triggered from any program, the PDFCreator printer driver takes over and displays an option window. Here you can set the document's title, date, author name and additional keywords before creating the final PDF files.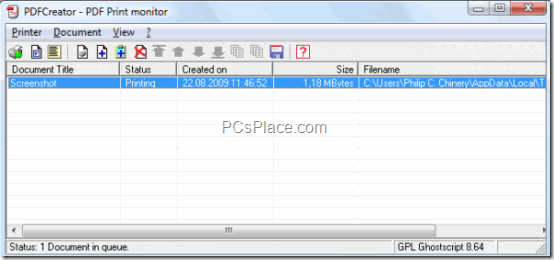 The window also has two additional buttons which can instruct the program to either keep the document for PDF creation in queue or send it as an email. Once the documents are in queue, you can also combine or merge them all into a single PDF file. The program can not only create PDF files but also create image files such as PNG, RAW, JPG, TIFF, PSD, BMP, PCX, PS, EPS and more.
Other features..
Encrypt PDFs and protect them from being opened, printed etc
Digitally sign your PDFs to ensure that you are the author and the file has not been modified
AutoSave files to folders and filenames based on Tags like Username, Computer name, Date, Time etc.
PDFCreator also runs on Terminal Servers without problems