Oxygner may not be an actual anti keylogger, but its purpose is to make the keylogger (if any on your computer) powerless. If you ask me, Keylogger is one of the biggest threat to any modern day computer user.
Keyloggers sit on your computers in the form virus or malware and silently tracks the keys that you are hitting your keyboard. In the times when you do most of your things online like shopping, banking, sharing media and much more things, it becomes very necessary to protect you accounts.
Oxygner is basically a virtual keyboard which wont let any keylogger capture what you are entering in password fields. And this pretty much ensures that your passwords, bank account numbers, credit card numbers, etc safe with you.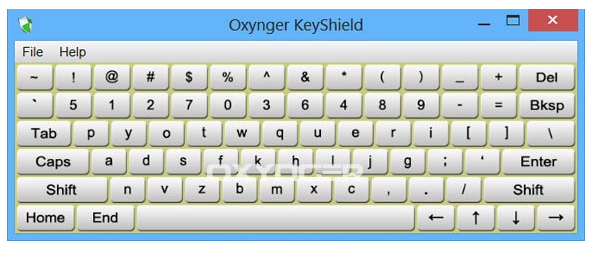 Oxygner does not just protects you from keyloggers, but also nullifies the actions of keystroke logging, screen logging, mouse logging and clipboard logging.
One other feature which makes this program a solid tool is that it does not let screen loggers capture screenshots. Oxygner is compatible with number of popular applications like Firefox, Chrome, IE, Ashampoo Magical Security, MyWinLocker, MyLockbox, TrueCrypt, Password, RoboForm, LastPass, Keeper, Direct Pass,  ZIP archive Tools including WinZip, WinRaR, 7Zip, NotePad, UltraEdit, WordPad etc
And the above list suggests that this program covers almost all the popular apps available today. This pretty much ensures that this is a must have app for every Internet use.