OtsTurntables is a free virtual MP3 mixing DJ software. The application can help wannabe DJs learn music mixing or music lovers to listen to professionally mixed MP3 music. It features DJ turntable functions such as scratch, tempo, pitch, play backwards, mixing and a lot more. The program also features an Auto DJ mode which can professionally mix the MP3 tracks automatically.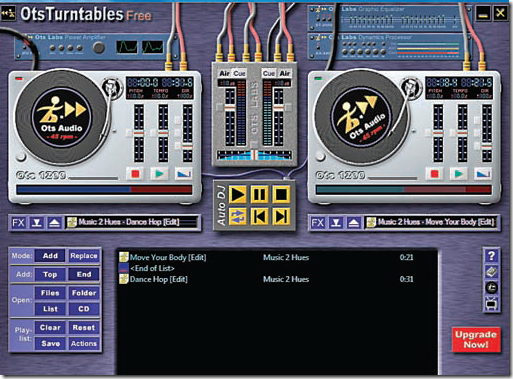 The program is completely free, but some features are only available in the professional mode, which include scratch samples, recording, ShoutCast support, virtualization and
headphones cueing. The player has a Dynamic Audio Processor to create your own audio ambience with preset audio modes such as Lounge, DJ, Party, Office and Radio to give your mixes a professional touch. OtsTurntables is very easy-to-use, simply load individual tracks or complete folders (you cannot drag-n-drop) and hit the play button. You can personalize playlists to have your favorite tracks play one after the other.
The moment you load the tracks, OtsTurntables starts indexing each track for optimized playback. But you cannot play music off a network drive which has write protection enabled it cannot index the files. On a whole, it makes a fine DJ mixing tool for aspiring DJs or listening to professionally mixed music.