Many of us use Winamp or Windows Media Player etc to play music on your computer. These are very good and have a lot of features. But for people who likes their applications to be small, M3 is one right choice. It is ultra light music player. It don't have fancy features but is definitely good for playing music from System tray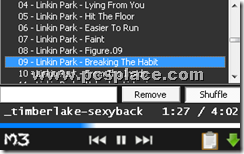 The best part is that it minimizes into system tray by clicking on the green arrow mark. Thus, Saving a lot of space on taskbar and also it saves screen space with its minimalist interface. There are options to keep shuffle and also you can search the playlist for your favorite songs.
M3 is extremely small in size. It is just 51 KB and gets downloaded in seconds. You need not even install it. Just download the Zip File and run the .EXE file to open your player. It opens in the bottom right of your screen above your System Clock. You can drag and drop your songs and they will be saved in the playlist.
Other features include..
Support for MP3, WMA and WAV formats

Simple searchable playlist

Drag-and-drop support
M3 is worth trying and it surely will serve your needs if you are looking for a minimalistic audio player. You can download it here.