Liberkey ia a great program which is a collection of 200+ useful portable windows Software. This includes grouping of various popular freeware. The software is split into three different sets – Basic (28 softwares) , Standard (106 softwares) , and Ultimate (all 200+ softwares).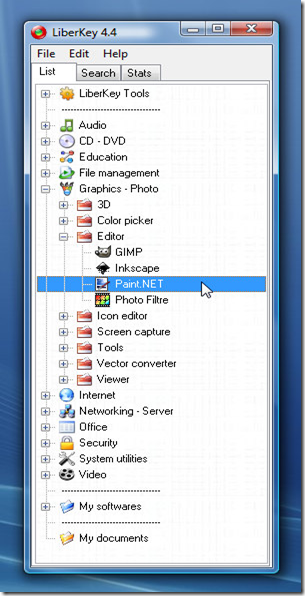 There Liberkey offers 2 kinda of uses, Local use and Portable use.
Local use which can be directly installed in a hard disk and used as a normal application.
 
Portable use which can be installed on USB key, external hard drive, music player such as iPod, etc
The software are listed in categories like Audio, CD/DVD, Education, File management, Internet, Graphics, Networking, Office, System utilities, video etc.
The list of software include TagScanner, Audacity, ImgBurn, Paint.net, Firefox, Chrome, Pidgin, Filezilla, Stickies, Open Office, Notepad++, Ccleaner, Revo Uninstaller, VLC media player and many more applications.
The best feature of Liberkey is its size. It is very small for the number of software it offers. The GUI of the software is good and all the applications are neatly arranged for easy navigation.
Other features like "associate file extensions"  allows users to launch any file whether from a directory or drive without compatibility problems.
You can download the application without registering but it is recommended to register as you will have a chance to  instantly update their Liberkey software by automatically downloading any of the new add-ons through the internet.
 
So, why download 250+ applications if you are getting them in one small pack. 
Also check out Carry your computer in a USB drive with Mojopac, which is another software of the same kind.