Its giveaway time now. Have you heard of Usenet? I bet you have. Usenet was started way back in 1979 as a portal to share news by a couple of college going students. And this later got developed to a forum where people starting sharing stuff.
And when I say sharing stuff, it includes all the things you could imagine of. Usenet was the place where Netscape browser got introduced to the world. And many such amazing tools get introduced to the world on Usenet every day.
And Binverse is the service which lets you download stuff from Usenet at high speed. But if you are wondering why Usenet, then here is your answer. There is ain't no thing which could not be found on Usenet.
With a Premium Binverse Usenet Account you can download content upto 50GB at high speed. This account actually worth $25, which you can win for free.
Binverse offers you with a safe, secure, and speedy way to download things fom Usenet. You can find upto 800 Terabytes data on Usenet at your disposal.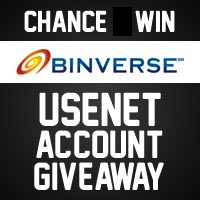 Giveaway – Win 4 Free Premium Binverse Usenet Account
We are giving away 4 free Premium Binverse Usenet Account, and here are the steps to grab your free Usenet accounts:
Tweet the following text to your followers.
#Giveaway – Free Premium Binverse Usenet Account http://goo.gl/DzJDC #PCsPlace
and / or
Share or Like this Page on Facebook.
Leave a Comment below saying why do need the free Premium Binverse Usenet Account with the link of your Tweet or FB share. Please mention your valid e-Mail ID
NOTE: The giveaway ends on 19th November, 2011 and winners will be picked using Random.org and will be communicated via e-mail on 20th November, 2011.
Here are the winners of the giveaway:
Congratulations! You would be soon contacted via email in order to provide you with the details of the credentials.
You can Subscribe to our blog via RSS feeds or via e-mail to get more updates on all the giveaways.
Go ahead and share the word about this giveaway.