I have always been a huge supporter of Open Source fraternity as I do not believe in paying for something if a good enough free substitute is available for the same. And if you are looking for a free tool to create animated GIF images, then here is the tool, namely, GiftedMotion.
The best part about this tool is the fact that it is compatible on Windows, Linux and Mac. It is a simple Java application which makes it a lightweight program.
The other thing which you would love about this tool is the fact that it is completely user friendly. On the Main Menu bar, you have only two options, File and Help and coming to the shortcuts, it has only five which are, Open, Export, Preview, Stop and Record. And the other required options are listed under Sequence editor panel.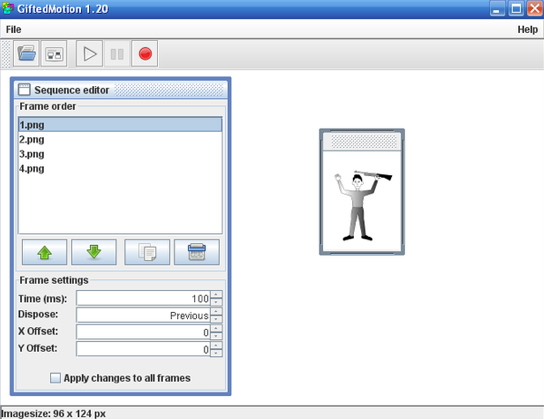 Using all these buttons you can upload your pictures, and animate them. If you face any issues using this tool, you can very much use its Help button. Below are some of its features:
Compatible on Linux, Mac and Windows
A lightweight Java based application
Unbelievably easy to use
Size of the created animated image is totally adjustable
Its frames let you position images as you wish
Edit existing GIF images
Supports number of formats like GIF, PNG, BMP, JPG and JPEG