Here is the third version of Game Booster released, Game Booster 3 which lets you speed up games on Windows better than ever. Regardless the game you like to play on your computer, this app lets optimizes the speed of your computer while gaming.
Game Booster has released its third version, full of different features and innovations that we are that sure many users will find them interesting. First let me tell you that this free program for Windows 7, Vista, XP, etc… It is meant to improve the performance of your games, by applying different settings. And because of which the speed with which your games run will be higher.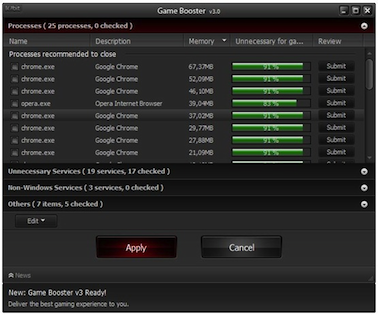 Most important thing about Game Booster is its wide compatibility and efficiency. Besides that, what I really like about this program is that it is very easy to use. The interface is very intuitive, and it hardly takes any time to get hold of it.
Below are some of the features of Game Booster 3:
Closes background processes that need not be executed
It avoids compatibility related issues
Defragments the directories of games to improve its integrity
Sets the operating system for better performance of the same
Make intensive tasks of optimization for the PC's processor
Cleans the RAM to make things faster
In this latest version of Game Booster, it features a new option "Diagnosis" that lets you generate a report to investigate how could you improve the performance of your computer so that the games run faster and smoother. Definitely, for amateur players Game Booster is a very interesting option.