Now, we have got free lightweight RSS Reader for Mac namely, Fresh Feed. This free RSS Reader is one tool to have if you are working on Mac.
Fresh feed is an RSS reader for Mac that offers a great way to stay updated on the news published on the sites to which you subscribe. It is having a clean interface that allows easy reading, without causing any distractions.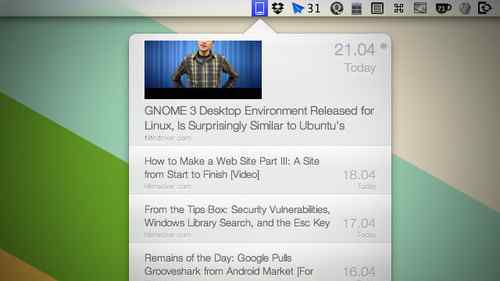 It offers a pop up list, where you will see your feeds. Fresh Feed allows you to add fonts from the "Config" button. Once you use it, you would find it as one of the most easy to use programs available for Mac.
Each feed displayed includes the date and time and can be disabled without being removed from the list. This feature is extremely useful as it lets you create specific lists without too many complexities.
So here we have a really useful application for reading the updates of web pages that you follow. Moreover Fresh Feed is a highly recommended player for Mac users running Mac OS 10.6.6 and is free.