Express Burn is one of the fastest ways to Burn a CD/DVD or Blu-Ray Disk. It can record disks by just drag and drop and on clicking Burn it writes data onto your disks and even converts files if required. It can be used to create and burn audio CDs, data CDs, video DVDs, data DVDs or data Blu-ray discs under Windows or Mac.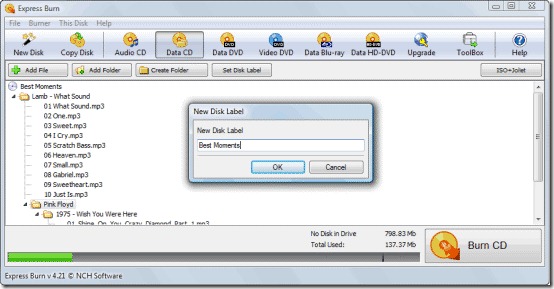 It is used to burn different types of discs like Data CDs (perfect for backup), Audio CDs (for traditional CD players), Mp3 CDs (larger capacity alternative to audio cds), Video DVDs (to be played on a standard DVD player), Data DVDs (4.5GB+ on a single DVD), Blu-Ray discs (25GB/50GB – Windows version). The features of the software are as follows..
Ultra fast burning to save you time

Burn audio, video or files to CD, DVD or Blu-Ray

Drag and drop files straight into the application
The free version comes with basic features and if you want advanced features you can get them by buying the Pro version. This disk burning software can record audio and data CDs and can create and or Burn CD/DVD/Blu-Ray disks instantly, quickly and easily.
Also check out other Disk Burning Software like Nero, CD Burner XP, Burn Aware, Img Burn