You can load data considerably faster from the RAM than the hard disk. eBoostr takes advantage of this fact and decreases the start up time of applications to absolute minimum by caching system files and commonly used applications. The software installs as a Windows service so that it is running in the background at all times. It can be used to boost up your Windows PC by utilizing Available RAM Better and makes computer boot faster.
It even increases the battery life of laptops as less hard drive access results in reduced power consumption, which leads to improved battery life.Check out, Laptop Care and Maintenance Tips – Improve Laptop Life
eBoostr can speed up your windows system without any hardware upgrade. We previously discussed Tips to speed up your computer like,
10 Simple Ways To Speed Up Your Windows XP
12 Simple Ways to Optimize Windows Vista for Best Performance
5 Maintenance Tasks that Improve Performance of Computer
To start using eBoostr you first have to set the RAM or external storage devices as cache memory and specify the cache size by dragging the slider. The amount of available cache memory depends on the amount of RAM installed or the capacity of the storage device. This feature is similar to the ReadyBoost feature in Vista, but you can only use a USB flash drive for accelerating applications and Windows start up. You can select up to four connected USB flash drives in eBoostr.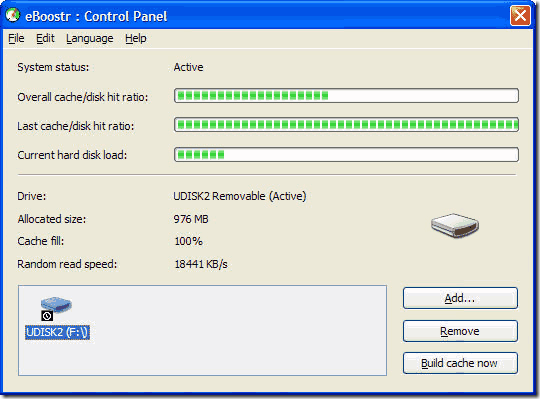 The main window of eBoostr can be accessed by double clicking its icon in the notification area. You will have to wait for sometime until the software builds up the cache. When the status changes to Active, you can find out the difference in access speed as a result of using the RAM for caching.
It makes a note of frequently accessed programs and startup items and optimizes the boot process in such a way that these are given priority. Vista users can use eBoostr to optimize the existing ReadyBoost feature.