Avast Home Edition is a Free antivirus with Spyware protection which works free for the first 60 days. After this period, it requires a free registration key that is e-mailed to you after filling up a simple form on the website.
Avast  has a funky media player-like interface. It is highly unusual of an antivirus program to have an option to switch skins. Though it is nice to have skinnable applications, it's quite unnecessary to use skins without actually adding any real functionality into it. Download Skins here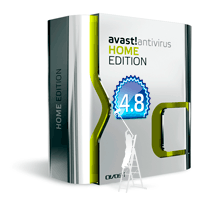 The scanner does a good job but hogs system processes like well known programs. By default, along with standard real-time protection, you get IM protection Network Shield, Web Shield, Internet mail and P2P protection. Each is a unique confgurable protection in itself which for a freeware is quite a solid protection offering.
Double-clicking on 'a blue globe' in the system tray confusingly launches the 'Program Settings' interface rather than the main interface. Unfortunately, the exclusion list is only applicable during a scan and not for real-time protection. The drawbacks are Virus exclusion lists which don't work with real-time protection and verbose updates.
The best Features are
It is easy to setup

Light on the system

Offers multiple protection shields.

Available in over 30+ languages
Download Avast Home Edition Anti-Virus