PDF is one of the popular file format for documents. It is widely used everywhere but is difficult to create one as it requires a professional licensed PDF editing software. If you are home users and don't want to spend on the tool, you may want to try doPDF, A Free PDF Convertor which can convert any Document files into PDF format for free. It installs as virtual PDF printer driver so you can find it in Printers and Faxes list.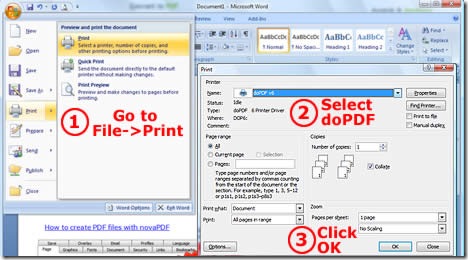 In order to use this software, Download and install it into your Windows PC. To convert any Microsoft documents(Microsoft Word, WordPad, NotePad etc), go to File -> Print and you will notice a new 'printer' with the name of 'doPDF v6'. Simply click 'OK' and it will convert your whole documents to PDF format instantly and store it in your selected folder.
Features..
Free to use

32-bit and 64-bit support

Customizable resolution

Predefined/custom page sizes

Search for text within the created PDF file

Multi-language
This software is especially useful whenever there is a need to share a document with editing restriction so that none of the recipients can alter your original contents easily. In one click you can convert your Microsoft Excel, Word or PowerPoint documents or your emails and favorite web sites to PDF files. Also check my posts on locking or password protecting PDF documents and Unlocking PDF easily.
Get doPDF HERE