Doc Shield is a document management software which is used to protect your important documents from any kind of errors. It is helpful to prevent or avoid the accidental modification or deletion of documents. It monitors your files for any changes and creates compressed snapshots of those documents when they are changed and stores them in multiple password protected locations.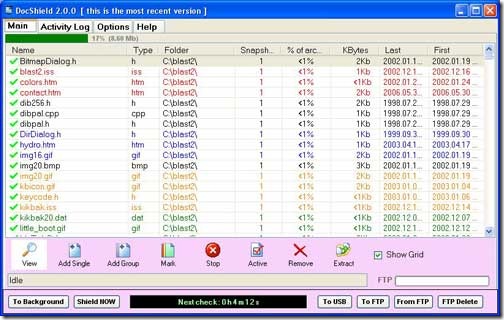 The software works for different file types like doc, xls or txt,etc.You can work with a group of documents at the same time. The best option is to automatically copy document backups to a ftp server. It maintains a history of your important documents. Best features of Doc Shield are..
Remote archive file storage on FTP servers
Archive privacy – password keeps your files private
Email notification of archive management events
Document color coding for easy identification
Works quietly in the background
Access files "on the go" with included USB utility
"Passive" operation – never deletes or modifies files
Selectable background colors
DocShield will be very useful to protect your important documents. It requires the Microsoft .net Framework 2.0. You can get it for free for personal use.