I have number of media players installed on my computer and I use most of them. I watch movies on VLC player and Windows Media Player (while working on Windows), listen to music on iTunes and few other media players for radio. But one thing which bugs me most is the shortcuts.
Each media player has different keyboard shortcuts and it hard to remember those keyboard shortcuts and use them accordingly. So, how about a way to create keyboard shortcuts for any media player? Sounds like a great respite, right? Media Player Hotkeys is a small program that we would be using.
MPH lets you create hotkeys for 21 different media players. which include VLC, Winamp, KMPlayer, Media Player Classic, Foobar and many more.
Once you configure all the keyboard shortcuts, you need not maximize the minimized media player to switch songs, increase or decrease volume. All you need to do is just launch MPH and use the configured keyboard shortcuts.
And whats best about this program? Well, you need not get on to your media player to use these shortcuts. You can make your media player work on your shortcuts even while you are working on other programs like Word, Excel.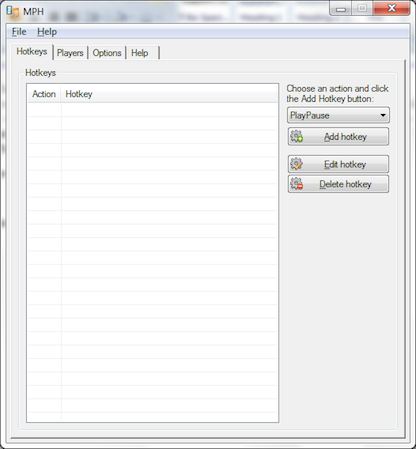 Once you launch this program, you will find four tabs which are Hotkeys, Players, Options, Help. Once you click on the Hotkeys tab, you will find the interface to customize your shortcut keys for any function.
And the tab Players, lists out all the players that MPH would support. In addition to that, it also features some notes mentioning the commands it support.
And its Options tab lets you customize MPH itself. And if you still feel like having some help on exploring the program, just get on to the Help tab.
Well, Media Player Hotkeys offers you with easiest and smoothest way to create shortcuts for any media player you want. You must give it a try!