Graph Paper Printer is an application designed to print numerous kinds of graph papers, music manuscripts and pattern papers, with user-defined sizes and colors. When you need specialized graph sheets this is the application to turn to. It would be erroneous to assume that horizontal and vertical grid line graphs are the only ones this program can produce.
Some of the graphs available are: Cartesian, polar, triangular, hexagonal, axonometric and dot diagrams; Linear scales in metric, imperial, time, equal and customized divisions; non-linear scales in logarithmic, quadratic, gaussian, square root, Weibull, logit types; Music manuscripts and tablatures; Mercator grids and pattern papers with lines, bricks, losanges, ellipses and hexagons.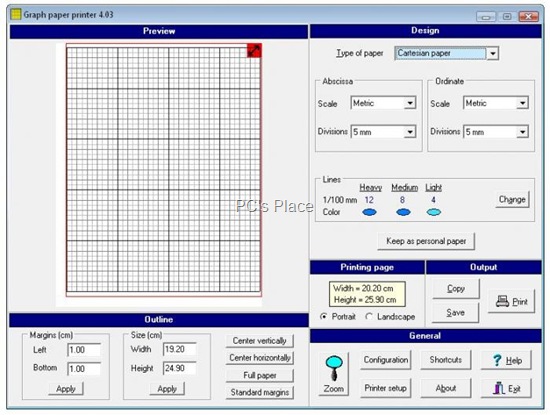 Working with it is easy. Mouse-adjustment of the margins and size of the diagrams, the 'Keep' function that saves the user's design for later editing or re-use, ability to switch from the metric system to the imperial system, accuracy adjustment for exact divisions with any printer, copying and pasting the diagrams to other applications, geometrically exact preview and scrollable zoom preview.
There are six panels in the window..
The 'Preview' panel is where the user can see what is to be printed and can resize the print area with the available red box.

'Design' has a drop-down list with the paper type options and fields for scale, division space, line width, line color and alignment.

'Printing Page' sets the orientation as portrait or landscape.

'Output' has three options: print, save as an EMF (Extended Metafile) and copy, which copies the diagram to clipboard.

'Outline' sets the margins and layout to full paper or standard margins.

'General' has the most useful buttons with 'zoom', 'configuration' which sets the accuracy of the vertical and horizontal gradations, subdivisions and unit system.
The best feature of Graph paper Printer is the large selection in paper types with the ability to configure the diagrams for individual needs.