PrimoPDF is a free program which enables you to convert any printable file format (like .doc, images, text, web pages) to PDF. This amazing program installs a virtual printer on your computer which enables you to capture any printable files (.scb file) and converts them into PDF files. This program lets you create PDF files out of any file easily.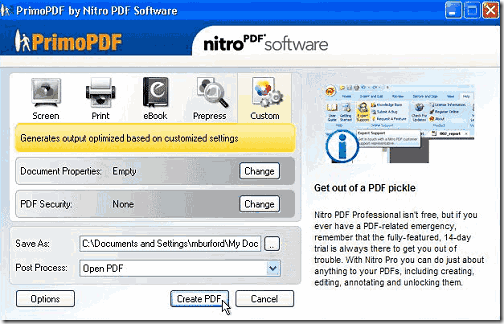 It also enables you to optimizing the PDF files so that you can obtain quality laser printouts without any watermarks. You can also use PrimoPDF to integrate with MS Office applications with compressed images and embed fonts. You can even merge multiple PDF files into a single file. Viewing, editing and managing PDF files become so easy with this wonderful program.
Here are some best features of this amazing software..
Create PDF files from 300+ file types.

Make PDF documents for different uses, including online viewing, eBooks, office printing, and prepress (high-end printing).

Combine PDF files after they are converted.

Secure with passwords and add document information (title, author, etc.) during creation