BeCyIconGrabber is a small tool which can grab or extract icons and cursors from files. It can be used to view icons and cursors of any sizes. It can work on different file formats like EXE, DLL, ICL, OCX, CPL, SRC, ICO and CUR. It can also save individual icons to the libraries of applications, so that you can use your own icon for that program.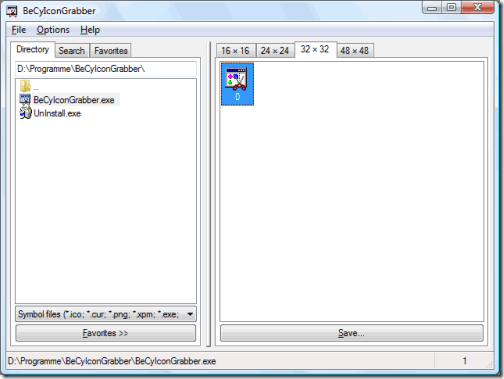 The extracted icons or cursors can be saved either individually as an icon, cursor, bitmap, PNG file or collectively within resource libraries like DLL or ICL files.In addition to those standard Windows formats, the Unix XPM (v3) format can be imported, too.
Other options include directory view, search mode, favorites which lets you access frequently used icon/cursor files easily and access to shell icons. It is free to download BeCyIconGrabber and it will be useful for people who wants to experiment with their icons.