If you want to know information about the system's configuration, you can always check in different ways. The process of gathering system information is tiresome, time-consuming and full of errors. You can let Windows compile the required information for you easily. A simple command will let you make a text file which has all the system information details. To do that,
In

Windows XP

, Open the command prompt by entering  'cmd.exe' through 'Start > Run', click 'OK' and In

Windows Vista

&

Windows 7

, you can enter the commands directly in the search field of the start menu.

In  the command prompt, type 'Systeminfo.exe' and confirm with [Enter].
The program lists the operating system configuration  including the service packs. A description of  the possible parameters is available with the command 'Systeminfo.exe /?' .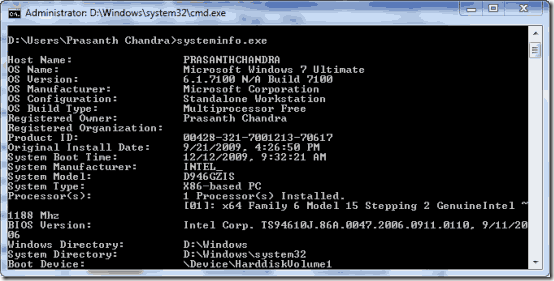 The output of  the program can be copied to a text file and you can give it any name of your choice. This file contains all important information needed during a support query, but apart from the user name, no other personal data is included.
For example, To store the information  in a file, use the command 'systeminfo >  c:\systeminfo.txt' and confirm with [Enter] which will create a file called 'Systeminfo.txt'. 
If the file does not exist, Windows creates it automatically. Otherwise, the operating system overwrites it without prompting. This way it is easy to check out your system information details.