Subtitles are very helpful to watch movies of different languages. They are the textual version of dialogues in the movie. These are useful for people who find it hard to follow the accent or language spoken in the movie. Subtitles can be downloaded and appended to your movie files. If you want to Download Free subtitles for your Divx Movies, here is a great site which makes it easy. It is called Open Subtitles, a biggest open Subtitles database, which has a huge collection of subtitles of different movies in various languages.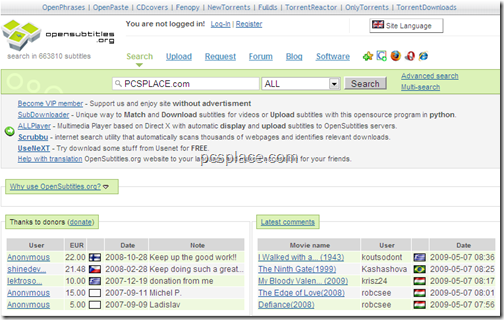 The site has a search box where you can type in your query and from the displayed results you can pick and download required subtitle file. The downloaded file will be a SRT file which is the default extension of subtitles. To load the subtitle for your movie, make sure the movie name exactly matches with the subtitles and then play the movie. You can enjoy your movie along with subtitles.
The site has a lot of subtitles for different movie formats like Xvid, DivX, DVD, MKV etc. You can download subtitles in almost 50+ languages. There is also an option to upload your own subtitles and can even request for subtitles. Here are some cool features of this site..
biggest multi-language subtitle database
no registration needed to download subtitles
advanced search filters (by genre, rating, year…)
search for more than one language
search for many subtitles simultaneously (multi-search)
get search results by e-mail or rss etc
. Get Free Movie Subtitles at  Open Subtitles