After you freshly installed Linux on your system, it is important to configure the settings. If you are new to Linux, here are the ways to set up and use the Linux system in a better way. These involve simple tasks in Linux such as setting up Internet, adding new applications or packages, setting screen resolution, changing wallpaper etc.
How to Set up Internet Connection in Linux
An Internet Connection is the first thing that needs to be done after you install Linux. We previously discussed a lot on establishing network connections. Check out,
How To Connect To The Internet Using Your Broadband Connection On A Linux System
How To Connect to Internet In Linux Via Mobile
The procedure to set up network connection is described in detail in this article..
How to Dual Boot Windows 7 & Ubuntu Linux – Install & Run Ubuntu on Windows
How to Open and Edit Documents in Linux
You can use Open Office in Ubuntu which is similar to Microsoft Office in Windows. Writer, Calc and Impress are alternatives to Word, Excel and PowerPoint. You can edit your existing documents created by MS Office too.
How to Install additional packages in Linux
Installing additional applications is easy. Click on 'Applications > Add/Remove applications'. If your internet connection is active, you can download and install lots of open source applications free of cost.
How to Set the Screen Resolution in Linux
The screen resolution in Ubuntu is usually set to '800 x 600' by default. Click on 'System > Preferences > Screen Resolution' and you can change the resolution to match that of your monitor.
How to Change Monitor/Screen Resolution in Linux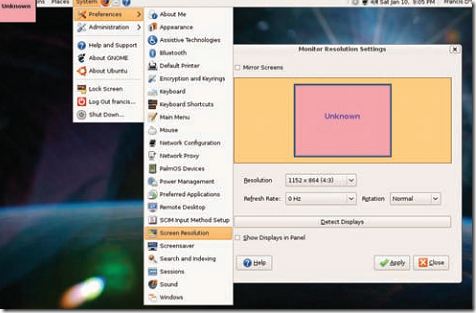 How to Change the desktop background / Wallpaper in Linux
By right-clicking on the desktop and selecting 'Change Desktop Background', you can change the background image of the desktop to one of your choice. You can also use your own pictures as the wallpaper.
How to Mount the Windows partition
You can mount existing FAT/FAT32/NTFS partitions to exchange data between your operating systems. note: Writing to an NTFS partition is not recommended, although data can be written to FAT and FAT32 partitions. Also check out, Mounting Windows Network Shares in Linux