Mailing groups are useful when you want to send forwarded messages to many people in one go. There is no need to exclusively select a single email address from your contacts list. All you have to do is create a simulation of a mailing list in the form of a single contact. This can then be used as a single referral to all the email addresses included under that name. Here is how to create mailing groups in GMail:
Click on 'New Contact'. Create a new contact in your Contacts list.

In the text box, enter a single descriptive name for the entire group, for instance you can use a name like, 'My mailing group'.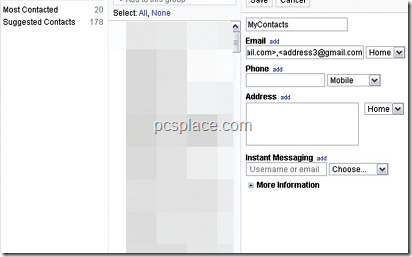 In the Email section, enter the email addresses of the contact that you want to include into the mailing list. These have to be present in a certain specified order. Between each of the addresses make sure that you type in a '>.<' sign. Make sure that there are no spaces left in between the addresses.
Ex: address1@gmail.com>,<address2@gmail.>,<address3@gmail.com And now, your mailing list ready in GMail in the form of a single contact.
Update: You can find Groups next to edit button and using this you can do the process much easily.