Do you want to insert and send your images through Gmail directly but don't want to send them as attachments? This article explains how to insert images or pictures into Gmail without sending them as attachments. You can send images in the body of your e-mail alongside your text. Although Gmail lacks an 'Insert image' button you can still add images using this simple method:
Ensure that rich-text editing is enabled in the Gmail message you are composing.

To enable rich-text editing, click on the 'Rich formatting' link.

If you have a graphic you found on the Web, ensure that you can use it without any copyright violation.

If it is an image that belongs to you, then make sure the image is located on a Web server. Which means you can open the image in your browser and the address line starts with 'http'. This can be done by uploading the image to a free host such as www.imageshack.us.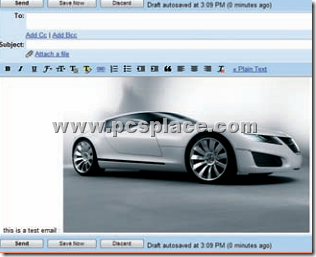 If the image is larger than 640 × 640 pixels, decrease the size before you publish it online.

Next, locate the image on the website or open it directly in your browser.

Select the image by pressing [Ctrl] + [A].

Then copy the image by pressing [Ctrl] + [C].

Then position the cursor in the Gmail message where you want the image to appear and paste the image by pressing the [Ctrl] + [V] combination keys.
That is it and you are done. This can be used to simply send images in the body of the e-mail so that the mails look attractive and more lively. If you know any other trick, do share it through your comments.