Google Calendar is an ideal tool for planning schedules within a group. If you want to synchronize the schedules with the content of your Google calendar in MS-Outlook calendar, It is best to use a tool which synchronizes data automatically. For example, the free program 'Google Calendar Sync', which you can download from this link. It requires Windows XP or Vista with Outlook 2003 or 2007. If you already use another tool for synchronizing, you should first uninstall it.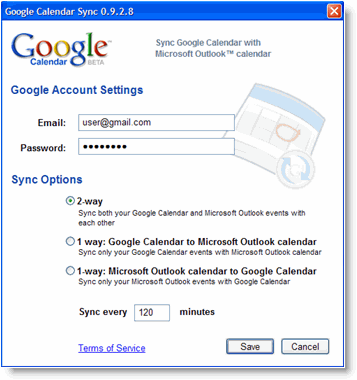 After installing Google Calendar Sync, you will see the configuration dialog box. There, you have to enter the username and password of your account. Then in the 'Sync options' section, select how the data should be synchronized. For a complete synchronization select the option '2-way'. This way you can make sure the data in both calendars is always the same.
As opposed to this, selecting '1 way: Google Calendar to Microsoft Outlook Calendar', will make sure that all changes in the Google calendar are also made locally in the Outlook calendar. Similarly, '1 way:
Microsoft Outlook Calendar to Google Calendar' makes sure that entries in Outlook are also automatically accepted in the Google calendar.
Then state in minutes how often the synchronization should take place. After clicking 'Save', the first synchronization takes place. The synchronization always only takes the primary calendar into account. For later access, there is an icon in the system tray whose context menu you can use to manually start the synchronization, exit the tool or modify the configuration.