Looking at hundreds of e-mail addresses in your address book or contact list can be boring. Wouldn't it be much better to see pictures of your contacts instead?  You can change the Gmail contacts profile picture and can add any image to your contact. Here's how you can see familiar faces in your contact list each time you wish to send mails to your contacts. Once you've assigned a picture to a contact, you can see it whenever you position your mouse over an e-mail address or name.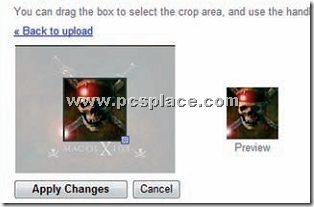 To add an image to a contact in Gmail, just follow these simple steps:
Click on the 'Contacts link' that appears on the left pane of your Gmail account.

Click on the contact's name to which you want to add an image.

You are then brought to the contact's profile where an image selected by the contact already appears alongside the contact's name. Click on 'Edit' to edit the contact information and make changes.

Move your mouse on the picture shown on the right side, then click on the 'Change Picture' link.

Select 'My computer' from the window that comes up next.

Click on the 'Browse' button to select an image of your choice.

Click on the 'Upload picture' button.

To crop the image, highlight the required frame and click on the 'Apply Changes' button.

Click on the 'Save' button.