Now you can download over 1 million books for free in the EPUB and PDF format. Google officially announced that users will able to download these EPUB texts from Google EPUB Archive of Google Books directly. You can download EPUB and PDF versions of these public domain books completely free of cost. All these books were out of any copyright, so this enables a reader to read them and also download that book legally for free.
You must be wondering, what exactly this EPUB format is? Well, with the advancement of technology, many devices have been invented like digital reading pads, mobiles, e-links etc. And PDF format does not give a viable view to read the text. EPUB is completely compatible with all these modern devices and offers a rich text structure to the readers. This is a standard format which can be read through eReaders or any desktop text reading software.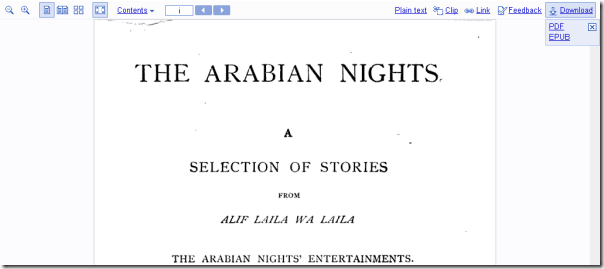 All these books are directly not available to you in EPUB format. Some are available for download, while some are available for Limited preview. The whole process is similar to the way we borrow a book from a physical library. It has to start with the borrowing of the required book from any of our library partners around the globe. And once they find it, Google borrows the book to transform the whole book in EPUB format, including all the images and text. This procedure involves a complex Optical Character Recognition during the transformation.
By digitizing the books, we can preserve rare books for a great period of time. It is obvious, that this procedure involves a huge capital. So the cost is so high that only few can afford. And those who can afford only think of this format when they fail to find the physical copy of any book. But using this EPUb archive, we can download any book we want and can simply access them on cell phones, laptops or any eReaders or can read them from any where through internet.
Google seems to be doing a great job. We know that the educational opportunities exist in an unordered way in the world. But by digitizing the books, people will be accessing some one million free domain books from Google Books. Google is bringing this saying into practice, "Knowledge belongs to every one."
from Booksearch