The Seagate Free Agent Desktop is a USB Portable Hard Drive which continuously copies your content to multiple locations and provides access to your files from the web. When its time to back up and protect your digital content–photos, music, documents, and more–it doesn't get much easier than the Seagate Free Agent Desktop USB Portable Hard Drive. You just have to plug it in to any power source, connect the USB cable to any computer, and you're ready to go. This hip-looking hard drive takes up very less room on your desk than an ordinary stapler, giving you more space for your other desktop items.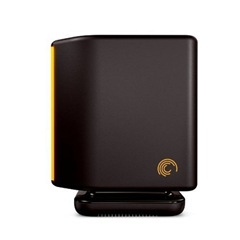 It's all about having your latest files right where you need them, when you need them. Automatically duplicate and move the content you select to multiple locations like email and contacts to your iPod™, photos to an online photo account, your entire "My Documents" folder to FreeAgent, or move it to your own online space* where you can access it from any browser 24/7 or share it with anyone you choose.
Portable Performance and Security
This provides many options which will help you back up your data. You don't have to depend on CD's and DVD's to back up all your data. Moreover they can get easily scratched and lost. Also it is too time-consuming and cumbersome to have a drawer full of CDs or DVDs. Your computer can only hold so many files and can crash at any time, leaving you helpless to access your content.
The Seagate Free Agent is big enough ( 500 GB )to store a huge portion of your digital content in a safe and secure environment, but as far as size is concerned it is very small. In other words, having the Seagate Free Agent is like having your entire computer with you at all times, but in a package that's a small fraction of the space and weight of your computer.
Technical Specifications
The sleek and slim design of this hard drive–only measures 7.5 x 1.6 x 6.4-inches (H x D x W)–and a weight of less than four pounds. The Seagate Free Agent lets you transfer files seamlessly from your computer via its USB 2.0 connection at a brisk transfer rate of up to 480Mb/sec. The drive delivers a spindle speed of 7,200 RPM, giving you the high-speed performance you need to back your data up quickly and safely.
The Seagate Free Agent is ready to use out of the box with a PC, but it can be made Mac-ready in a matter of minutes with Mac OS X's Disk Utility. This portable hard drive is already compatible with Windows Vista (as well as Windows XP and Windows 2000), allowing you to backup your content regardless of operating system upgrades.
At this compact size, and with this high performance, you now have the ability to take your data with you anywhere you go, so your digital content finally has room to breathe. A five-year warranty is also included, giving you complete peace of mind.
Technorati Tags: seagate free agent review,seagate free agent desktop,wireless hard drive,portable hard drie,
seagate
,external hard drives