Firefox which is considered as the best browser in the world gets very slow when it is loaded with number of extensions. The various Firefox add-ons will make it cumbersome and will effect the start up time of the browser. Here is a software which is especially designed for people who like to use a lot of Firefox extensions and Tabs. It is called Firefox Prelodader.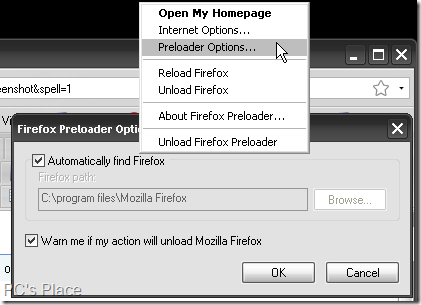 The installer is about 840 kb and it occupies some 30 MB of you RAM, but it improves the start up times of Firefox which is fully loaded with extensions. This improvement is very much effective. This can be done as Firefox Preloader is a utility that is designed to load parts of Mozilla Firefox into memory before it is used.
You can set it to run automatically at system startup, and it installs a convenient system tray icon for accessing it easily. You can unload the preloader which clears out the program from the list of active tasks, and you can reload it, which dumps it from the active cache and then reloads it.
This don't serve great for people who like to use their browser with simple extensions and with less number of Tabs opened at a time. But if you are one user who likes to load your browser, this is a must  as it will surely get you some valuable time and better start up times.