Discount, sale or coupons are one of those words which attract the attention of a normal human. Popify.me is a free web service which lets you create popup for coupon badges for free.
There is no better way than popups to make your readers aware of interesting offers that you throw. This web service lets you created popups which would be hidden as the badges on the sides of your web page. And there is no doubt that these badges on the side of your screen wont attract the attention of your readers.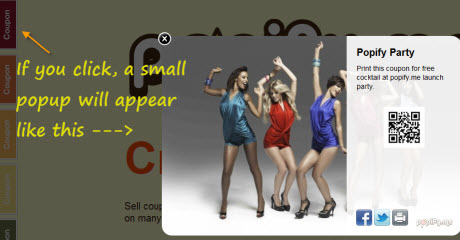 Popify lets you customize your coupon codes which let you add QR Codes, email ID forms, and edit the coupon title and text. So instead of just offering coupons, you can also use this service to collect email IDs.
Depending on your requirement, you can use this service to either popularize some kind of offer, or just collect the emails IDs. All you need to do is logon to Popify.me and start customizing your coupon badge.
And once done, it provides you with the HTML code which can be used directly with your website's code. And this is embed popup for coupon badge on the side of your web page.
This is how you can add as many coupon badges as you want. And the best part is that when somebody clicks on any of your coupons, it lets the reader share the popup on the sites like Facebook, Twitter. So, if you are offering something really brilliant, then do not worry about its publicity.
Popify.me is undoubtedly the best place to land on to if you want to create popup for coupon badges for free which can be embedded on the sides of your web page.