The web is flooded with sites offering free and unlimited downloadable software for the Windows operating system and not many for mac users. Hence we found Open Source Mac. This site has only the best free open source software available for Apple mac OS X users and has a very clean interface with a list of all the free software applications for Mac Users.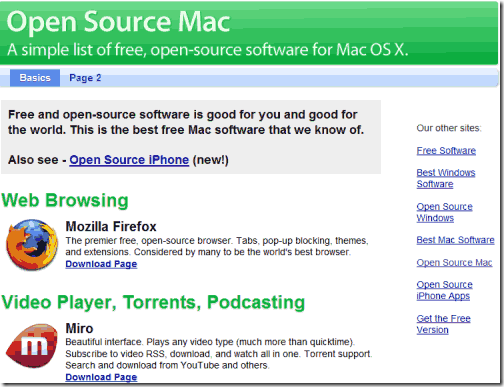 It has applications like for every use like audio and video players, Instant messengers, word processor, Games, P2P applications, MP3 management, File sharing, email, Running Windows Software on Mac, Text and graphic editors and so on for download.
The emphasis of  the site makers is on the quality of  software  rather  than the number of  software  available for download, hence all the software available here are free from any kind of viruses or errors. This site also functions as a community of mac fans and enthusiasts around the world who develop these applications for mac. Free applications are now yours, mac users!