Clip Generator is a great tool to create cool video clips online using your own pictures. This web service can be used to make your own customized video clips out of pictures, photos or images and can add your favorite music or sound to them. You can even add special effects and can create your own professional videos online which can be used on video sharing websites like Metacafe, YouTube, etc.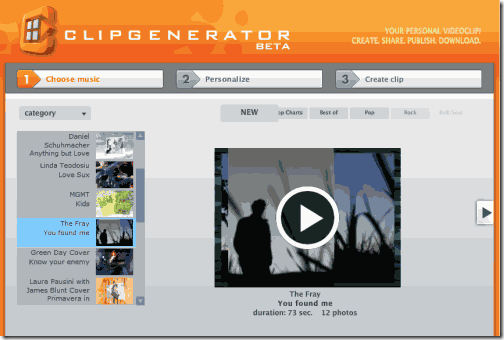 The Clip Generator has many options which lets you create professional videos easily. You can import pictures or photos directly from your computer, webcam or from external sources like Flickr, Photobucket, Picasa etc. It has a huge database of completely legal music to choose from and effects sequences designed by professionals. The video can be saved in the desired media format.
You can simply upload your pictures and add in your audio and special effects and you are done. These video clips can be directly shared to your friends and can also email them or post on your Facebook wall. The created videos can be directly uploaded to YouTube or photobucket. Show your creativity and make those masterpieces now @ Clip Generator.