Its pretty obvious that you have heard about Vine, and that is the reason you have ended onto this post. To start with, Vine is a pretty new Twitter based service which has been launched recently. And it is used to post videos.
I mean, it lets you share any video which is less than or equal to 6 seconds. Like Twitter is called as Micro Blogging, we can call Vine as Micro Video Sharing. So, this service would let you create short looping videos and lets you share it on Twitter.
Since its very new to the Internet world, we can expect it go more and more spiced up in the coming times. And if you have a Mac, then you can easily convert these 6 second Vine videos to GIF animations.
If you take away the concept of Vine, then it was the GIF animations that we have been using all these years. And if you wish to convert Vine videos to GIF animations, then get your Mac loaded with an app called, VineGifR.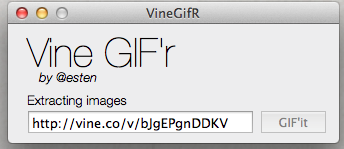 Since this video sharing service itself is new in the Internet world, this free Mac app is equally new. Below are the steps that you need to follow to get the GIF animations:
Launch Vine GIFr

Copy the URL of Vine video in the field given (make sure that you include http://)
Click on GIF'it button
That is it! This open source program would create you a GIF animation of 240 x 240 pixels. You can expect this program to go more sound with time.