Singing songs along while they are being played is always fun. If you are running on Mac, then I have shared a post on few ways to get lyrics on Mac. I hope you will find it useful.
But my pursuit for good app to find lyrics on Mac automatically continued as I was still looking for something more simpler and faster. And then I have come across, musiXmatch. I would just want you to use this before you even think of trying out any other lyrics finder for Mac.
There are number of features which makes musiXmatch one of the best lyrics tool around for Mac. Below are some of them:
Very light weight
Huge number of lyrics have been updated in its database
Zero manual efforts required
Works with number of players like iTunes, Spotify, Grooveshark, Pandora and Rdio
Use to identify music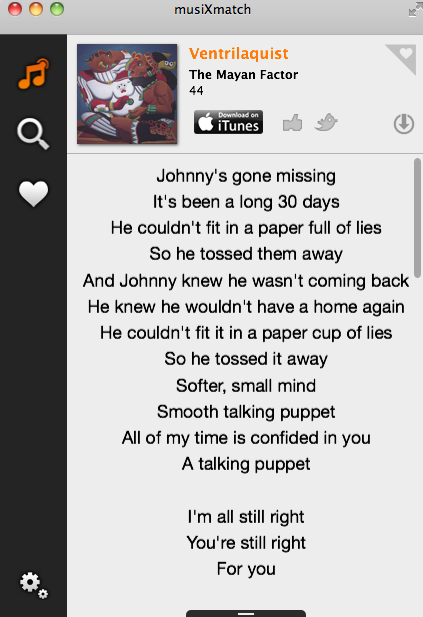 All you need to do is play songs on any of the above mentioned players, launch musiXmatch, do ALT + TAB to read the lyrics. Yes, that is it. You need not do anything else.
The developers label this program as the world's largest lyric catalog. And with over 7 million songs in 32 languages, it proves to be a solid lyrics finder for Mac (and the database is growing each day). It can be downloaded on your iOS device too.
It can also be used as a song identifier. You can use it to identify any song that is being played, and you can use this program to find a song if you just remember a line of it. Killer, isn't it?
If you wanted to sing songs aloud at your home, so set this program up, play the sings, sing along and have fun.
Please Don't Stop The Music!