Yahoo mail introduced a new feature which lets you send free SMS to any mobile phone in the world online for free. It just requires you to log into your yahoo mail account. The process is very simple and using this you can stay in touch with all your friends.
In order to enable this awesome feature, you need to switch over from old interface to the new interface which you can do by clicking on the Top right link which says " New Yahoo Mail". If you are in the new interface already, this step is not needed.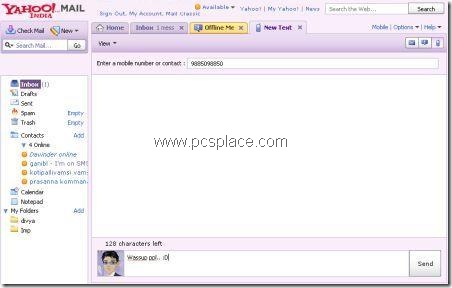 After that, you need to login to Yahoo Chat which you can do by clicking on the offline option next to your email ID on the top or simply press t on your keyboard, which will pop up a box asking you to sign in to chat and SMS service.
Select your country and you will see an interface like one in the given screenshot. Enter the mobile number and the SMS you want to send in the space provided and click SEND. Your recipient will receive the message. Try it, It really works.
Thanks to ToThePC