An open source desktop email client from Yahoo's Zimbra version 3 was launched. It is designed to compete with Outlook, Mozilla Thunderbird, Mac Mail, etc. This is a new iteration of their browser-based offline product.
This Zimbra Desktop is available for Windows, Mac and linux machines. It is built on Mozilla Prism. It is about 40 MB, about double the size of Thunderbird. The product promises the robust features of Outlook, which are lacking in Outlook Express and Thunderbird. Users can access Yahoo mail accounts, Zimbra accounts, or any Pop/IMAP supported email boxes. Zimbra Desktop also includes a calendar, contact list and other features.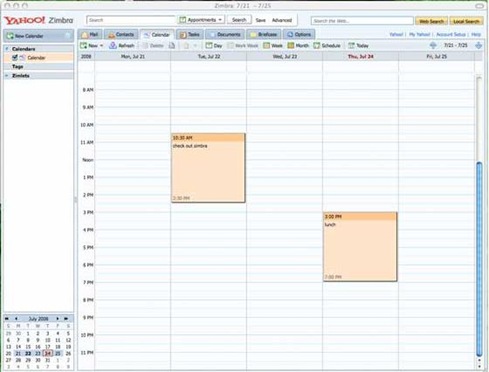 It's responsive and quick, which is the most important feature for a desktop email client. It has the ability to tag items, collapse conversations, and perform web and local searches via the search bar in the top right corner of the app. It looks cool too. You can check it out from the screenshot above. I would like to use Zimbra permanently as it has great features which will surely outperform its other competitors.