Preme is a free software for Windows 7 which lets you add cool desktop features and enhances the desktop functionality. Windows 7 is turning out to be the most favorite operating system among its users and program like Preme will let you love it more.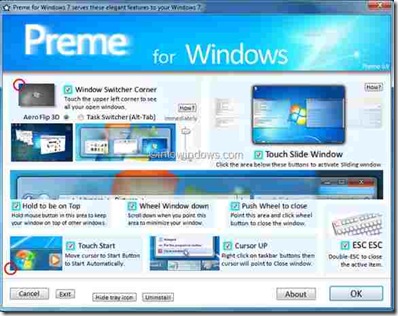 Below are the features of Preme:
To keep your window on the top of other, simply hold the mouse button on the title bar area of that window.
Close any window by hovering the mouse cursor on the title bar area and clicking the wheel.
Touch the upper left corner of your desktop with the mouse to see all your open Windows either in Flip 3D or Alt-Tab style
You can open the Start Menu simply by moving the mouse cursor to the Start button.
A window can be minimized by simply moving the mouse cursor on to the title bar area and scrolling down the mouse wheel.
You can close an active window by pressing the ESC key twice
Many More shortcuts packed in it.
Preme is an amazing free application which will enhance the efficiency of your work on Windows 7. And I found Preme a MUST HAVE application for all the Windows 7 features which will let you enhance your desktop features and its functionalities.
via The Windows Club