Updates of your OS are always meant to improve it but sometimes they might not turn not good. If you have installed such an update in Windows 7 and now looking for help to uninstall / remove that update, then this guide is for you.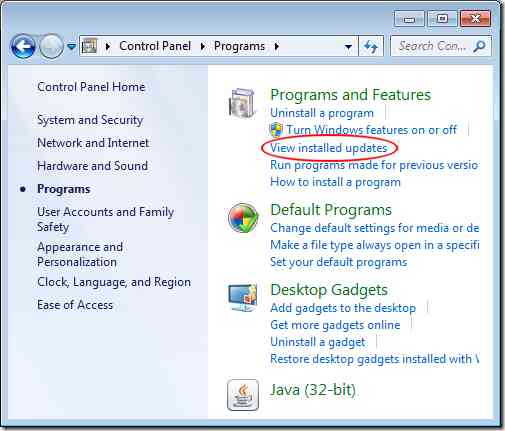 Easy to use interface is one of the biggest reasons behind the success of Windows 7. And so is the way to remove any installed updates in Windows 7. Regardless the reason behind removing it, here is the step by step guide to uninstall / remove updates in Windows 7:
STEP 1: Firstly you need to login to the system ( from which you want to uninstall / remove updates in Windows 7 ) as a user with Administrative privileges.
STEP 2: Now, open the CONTROL PANEL ( START > CONTROL PANEL > PROGRAMS ). And under the PROGRAMS AND FEATURES option, you could find a link labeled as VIEW INSTALLED UPDATES, simply click on it.
STEP 3: Now, you will be displayed with a list of all the updates installed in your Windows 7 sorted out in some order. Now to uninstall an update, simply select it from the list and then click on UNINSTALL button.
NOTE: Do not uninstall or remove any update until and unless you are aware of its actual reason, because you might end up messing with your computer.
This is how you can uninstall / remove updates in Windows 7.