Windows 7 is undoubtedly the most selling operating system. Microsoft sold more than 30 Million copies of Windows 7, and this surely replicates its success. It is user friendly, fast and free of number of glitches. But if you are still looking for tricks to repair / fix Windows Explorer crashes in Windows 7, then here is the way.
If you are facing errors like "Windows Explorer has stopped responding", "Windows explorer has misbehaved and needs to be closed" and your windows explorer crash, then here is a fix for it.
Fix Windows Explorer Crashes In Windows 7
Windows 7 offers you with a feature which lets you enable the OS to generate seperate process for taskbar and desktop whenever the user opens an explorer.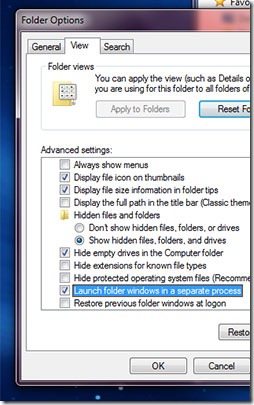 So, using this feature we can fix this windows explorer crash issue. To start with, click on Tools option in the Main Menu or hit Alt + T. Then navigate to Folder Options > View and there, click on the option which says, Launch Folder Windows in a Separate Process.
Now, whenever Windows Explorer crashes, you would be able to delete that particular process and this is how you could fix Windows Explorer problem in Windows 7.