Windows 7 is available in several versions that are obviously of different costs. So how do you choose the right one that fits to your computer configuration? Here's a brief guide to help you better understand features offered by each version of Windows 7, which will help you to make the best of this much awaited operating system. You can look at this complete table that compares all the features of different versions of Windows 7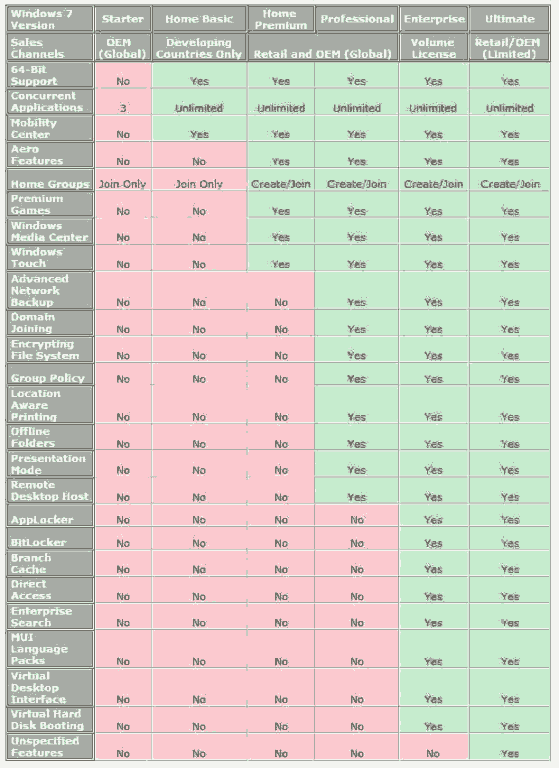 Windows 7 Starter
Windows 7 Starter is the basic version and one that has fewer features of all primarily suitable for Netbook, but I personally do not understand the reason behind it.There is not much difference between the Home Basic and Premium. The Basic does not have the Multitouch, gaming and media center.
Windows 7 Home Premium
Windows 7 Home Premium is the recommended minimum for a PC version of the cost. Aero Peek has functions for previewing the programs and to clean the desktop, Aero Snap resizing windows and Aero Skins for translucent windows and the taskbar with all the effects. Also contains Aero Shake is a quick way to minimize windows and clean the desktop. It also allows you to manage themes and other customizations.
Windows 7 Professional
Windows 7 Professional is the most powerful (it also costs a bit more) and is suitable for home use but especially for the office. Supports up to 192Gb of RAM in 64-bit mode.Windows 7 Ultimate supports all the features plus the virtual hard disk boot and a system for managing applications under Unix. Great for developers and advanced users.
Windows 7 Ultimate
Windows 7 Ultimate is the complete package of the operating system. It has got every feature like Aero, Windows media center, Domain joining, App locker, presentation mode, MUI language packs, virtual desktop interface, etc. This is the ultimate version as the name suggests and if you are looking to use each and every feature of Windows 7, this will be the best choice.
We recommend the Home Basic version for normal users who do not often use the PC, the Home Premium for the most expert users who use it often. And all other versions for experienced and advanced users and Ultimate for people who want the fully featured Windows 7.