Since few days, we getting a lot to read about Windows 8. We got to see the new interface, new task bar design, any many other new features. But only time would prove if it is actually true or not. But, I find nothing wrong in assuming these things to be true and using Windows 8 Transformation Pack For Windows 7 to make my PC look like one.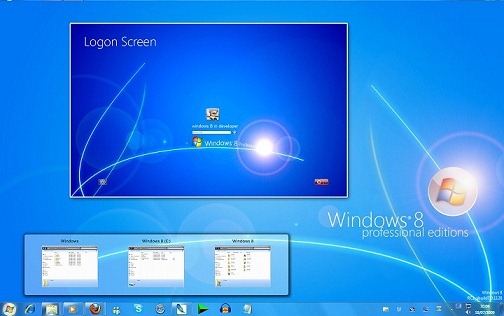 Download Windows 8 Transformation Pack For Windows 7
Once you download and install this Windows 8 transformation pack, you would surely get the feel of the futuristic Windows OS. And there is no rocket science involved in the installation of this transformation pack.
All you need to do is download the transformation file, and run its .exe file. And you can easily finish the installation just like any other normal software.
Below are some of the features of Windows 8:
Taskbar UserTile
Aero Lite
Windows 8 Aero Theme
Aura Beta 2
Download Windows 8 Transformation Pack