There's nothing worse than running into computer trouble and not being able to restore your computer to a previous state. In the past if you lost your system recovery disks for the computer you were pretty much out of luck, however with this version of Windows, Microsoft has made it possible to recover your windows installation by using a USB stick. The only downside of this method is you will have needed to create the bootable pen drive before you began experiencing problems, otherwise it might not work. To begin, you will need a USB stick with at least 4GBs of space and a functioning computer with Windows 7 installed.
You might also find these posts interesting..
How to Create a Bootable USB Pen Drive with Windows XP, Vista / 7
How to Install Windows Vista from a Bootable USB Flash Drive
How to Install Windows XP from a USB Flash Drive
WinToFlash – Make / Create Bootable USB Installer for Windows 7, Windows XP & Vista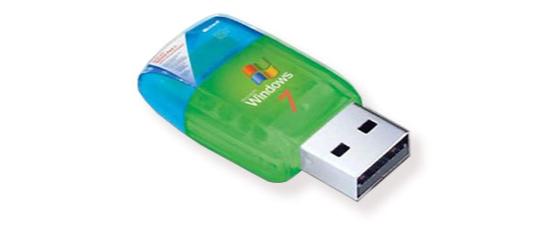 How to create a Bootable USB Flash Drive to Recover Windows 7 without using Softwares
To begin, type "create system repair disc" without the quotations into the Start Menu search box.
When the dialog box pops up, it will ask you to select your DVD drive. Do so and then insert a blank DVD into the drive to be burned. This will create a Windows 7 recovery CD.
Once the burning process is complete, you will have a disk that you can use to make a USB recovery drive. To do this, insert the USB drive into the computer and make sure it contains no files that you might need later, as we are going to format the drive.
Click Start, then All Programs and navigate to the folder Accessories, and then right click Command Prompt and select Run As Administrator. You should be present with a black box with a blinking cursor and a file path. It will be something similar to C:\Users\YOUR USERNAME.
Now we need to execute a series of command prompts in order to format the drive. Type in "DISKPART" and you then "LIST DISK" should display a print out of all the drives connected to your computer. You want to be sure you select your USB drive which should be last in the list, but is most likely the device with the fewest MBs.
The disk number you must select is highly dependent on the number of drives connected to your computer. The following commands must be executed in order, using the number relating to your USB drive.
– SELECT DISK 1

– CLEAN

– CREATE PARTITION PRIMARY

– SELECT PARTITION 1

– ACTIVE

– FORMAT FS=NTFS (Format process may take a while)

– ASSIGN

– EXIT
Once you have completed those steps, insert the recovery CD you made and copy all of the contents over to the USB drive. Congratulations! You have created a bootable recovery USB drive that you can use to access any recovery points on the Windows 7 PC in order to restore it to full working order.
A guest Post from Forte Promo who specialize in Promotional products for all of your business needs, look to Forte Promo for any new Customized Flash Drives.