Well, what exactly a MAC address is? If you are aware of computer networks, then you must be knowing it. But here is some information regarding it. Media Access Control Address, commonly known as MAC Address is a unique identification number that comes assigned to your hardware.
MAC Address by actually assigned by a standard authority which ensures that any MAC address is not repeated. And if you think this might not allow you change it, then you are wrong. We would be talking of the ways which would let you change MAC address in Windows 7 without much of efforts.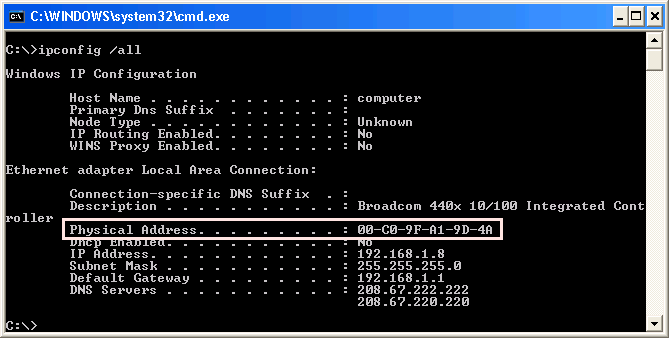 2 Ways To Change MAC Address In Windows 7
METHOD 1 – Change MAC Address
In this method we would actually changing it using the Network settings in Control Panel. So navigate it as, Control Panel > Network and Internet > Network and Sharing Center. And then, click on the option marked as Change Adapter Settings.
Now this will list out all the connections on your computer. Right click on your connection and then click on Properties. And on the window which has opened, click on the Configure button.
Click on the Advanced tab and from the Property column, click on Network Address and enter the value you want. That is it, this is how you can change MAC address in Windows 7.
You can verify it by firing the the command, ipconfig /all on the command prompt.
METHOD 2 – Change MAC Address
We would using a nifty program called, Win7 MAC Changer lets you change the MAC address on Windows 7, Windows XP and Vista.
Using this free tool is so much easy. Once you launch this program, it would display you with the current MAC Address. And all you to do is click on the Change button which would let you change MAC Address in Windows 7 manually or it also generates a random address to use.
These are the 2 ways to change MAC address in Windows 7. You can follow which ever you feel like as both of them does the required quite smoothly. And in order to confirm the change, get to the command prompt and fire the command, ipconfig /all. This would display you with current MAC address.